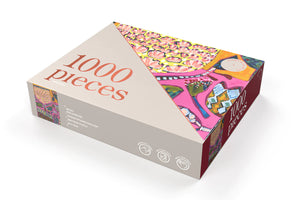 Journey of Something- 1000 Piece Puzzle - Mexicana
Exercise your mind and excite your eyes. Or share the love, puzzles make the BEST gifts. 
About the Artist
Sarah Rowe, AKA Miss Moresby, grew up in Moresby Street, in a leafy suburb of Adelaide. Sarah now lives in the leafy suburb of Eltham, Victoria with her three sandy haired boys, two chickens, two cats and two dogs for company. Painting and Textile Design have always been amongst her favourite things to do, driven as she is by colour and creative expression.
Additional Info
70 x 50cm (finished size of puzzle)
Artist Designed
Brain Training
Australian Owned
---
We Also Recommend