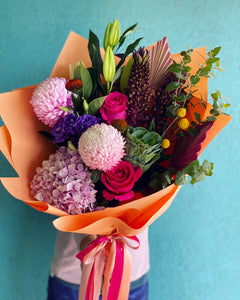 Hot Damn! Bunch of Blooms
Hot damn! She's a show stopper! 
You're looking at a designers choice arrangement of fresh blooms that'll knock the socks off a loved one! Made to be big, lush and bloody amazing.
Choose from a bright, feminine, earth or green + White colour pallet.
 Add a super cool greeting card by clicking here..
*Please note that flowers are a product of nature and are often sent in tight bud for to maximise the length of enjoyment. Flowers may differ from those pictured.
---
We Also Recommend