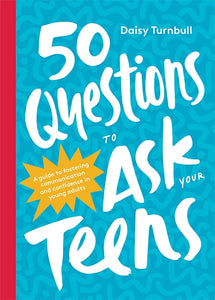 50 Questions to Ask Your Teens By Daisy Turnbull
50 Questions to Ask Your Teens is a guide for parents and carers navigating the confusing and exciting world of adolescence. For anyone who wants to better connect with their teens and help them to be functioning, self-aware and kind adults, Daisy Turnbull offers a simple framework with clever questions to engage your teen and pre-teen from age 10 onwards. 
 
In 50 Questions to Ask Your Teens, you'll find questions that encourage your teen to master the practical as well as trickier topics, including friendships, consent, self-compassion, managing conflict, mental health, boundaries and media influences. Moving beyond the predictable milestones of childhood, this book addresses the nuanced social and emotional needs of teens that we often assume are being met elsewhere. Parents and carers will learn how to promote their teens' awareness of the world, and encourage them to take responsibility and understand consequences and risks in a fast-changing world.

Underpinned by research and informed by Daisy's own experiences as a teacher of teens for more than a decade, a Lifeline counsellor, and a mother of two, 50 Questions to Ask Your Teens is a warm, relatable book that's perfectly in tune with where teens are at right now, and the ideal starting place for parents to raise an adult they can hang out with. 
---
We Also Recommend